Omaha Recycles Right
Keep Omaha Beautiful's guide to helping you become a better recycler.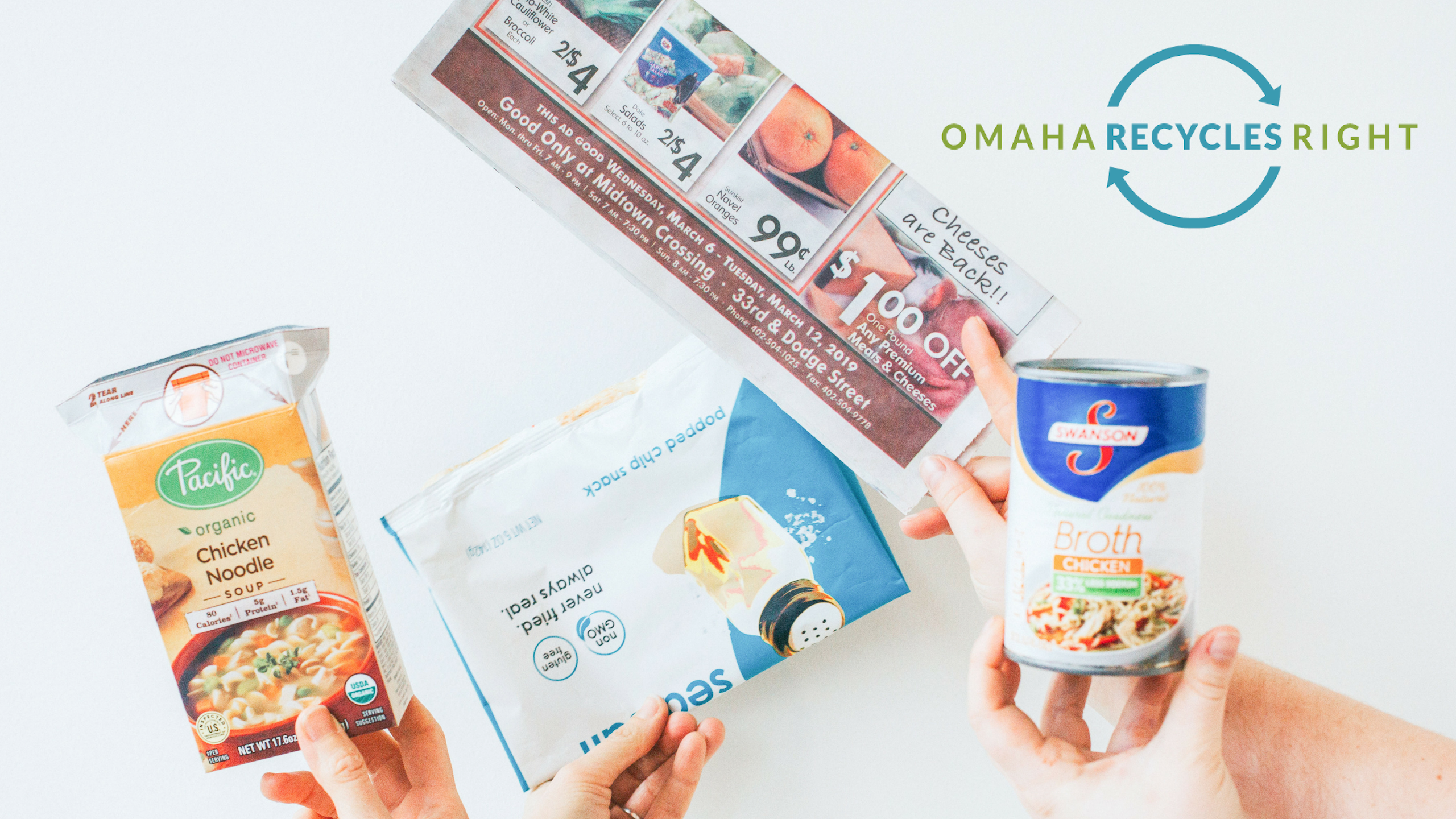 Why is it Important to Recycle Right?
Because taking simple steps to recycle right can be easy and impactful!
By taking just a few seconds to recycle right, you can help conserve limited natural resources, reduce pollution, contribute to clean water, and reduce Omaha's reliance on landfills. Recycling provides the opportunity to create new packaging and products from what we already have.
When it comes to recycling, every community is different! Most communities have subtle differences in what they accept for recycling, so that's why it's important to read the guidelines specific to Omaha.
As much as we might want everything to be recyclable, many things cannot be recycled through Omaha's curbside recycling program. When you "wishfully recycle" something that cannot actually be recycled, you can contaminate the whole load, often causing even the good materials to go to the landfill. If you are unsure about something you are trying to recycle, it's best to throw it out and let it go to the landfill to avoid contamination. Just because something is placed in the recycling cart, doesn't mean that it will be recycled. It's not recycled unless it's recycled right!
Learning to recycle the right way is good for Omaha and good for the environment. Join us on this journey and help us spread the word!
---
How Can I Recycle Right?
Recycle Right 101: When it comes to waste, it can sometimes be difficult to know what goes where. The City of Omaha's solid waste program, Wasteline, is your go-to resource for all things recycling in Omaha. Check out this site to learn all about curbside recycling and how you can start today!
Searchable Recycling Charts: Looking for something specific? For an extensive guide on what items can be recycled in Omaha, visit the following websites:
Printable Recycling Guide: Want an easy way to remember what can be recycled in your curbside cart? Download our printable Recycling Guide to help you decide what items to recycle.
Recycling & Reuse Resources: What should you do with a burnt-out light bulb, old furniture, bald tires or other items that cannot be recycled in your curbside cart? Check out our Recycling & Reuse Resources to see how you can start diverting your waste for recycling and reuse locally.
---
Recycle Right FAQ
You've got questions, and we've got answers!
Watch the following Omaha Recycles Right videos on your YouTube channel or check out our common recycling FAQ below!
Where does my recycling go?

If you've ever wondered what happens to your recycling once it leaves the curb, we can answer that! Omaha's residential recycling is brought to Firstar Fiber - we process your recyclable material right here in our Southeast Omaha facility! Through the process of sorting and bailing, we are able to keep valuable recovered material from going to landfill. We work hard to connect your recyclable material with predominantly American markets and manufacturers, which in turn supports our local economy and protects the environment.
- Danielle Easdale, Marketing & Program Manager - Firstar Fiber

If I throw something random in my recycling cart, someone else will figure out what to do with it, right?

Don't just wishfully recycle something and hope that someone else will figure it out...recycling doesn't work like that! If you are unsure if something can be recycled or not, it's actually better to throw it in the trash rather than put it in your recycling cart and cause contamination. Contamination is when an item that cannot be recycled mixes with the rest of your recyclable items. Non-recyclable items that slip through the sorting process can cause contamination, which raises costs for the recycling processing facility, and ultimately raises the cost of recycling. And as for the hardworking people working on the sorting line, the whole process would be much more efficient if they didn't have to pull dirty diapers, broken glass, and food waste off of the line.

Should I bag my recyclables so they all stay together?

Bags should not go in your cart! Plastic bags cause problems for the machines at the sorting facility, getting jammed in equipment and ultimately ending up in the landfill. Keep your recyclables loose in your cart.

Do I have to take labels off my recyclables before throwing them in my cart?

If you can easily remove a label that's great, however, today's recycling technology is designed to remove things like labels! High heat is an integral part of the recycling process for plastics and metal, so this takes care of any impurities attached to a product like labels and glue!

Should caps and lids be separated from their containers?

Plastic caps and lids should actually be screwed back on to bottles and cartons before recycling! Loose caps fall through the sorting machines due to their small size and ultimately end up in the landfill. Later on in the recycling process, caps and containers are separated and recycled individually, so before you throw a bottle into your cart, make sure the cap is screwed back on.

Do I need to take the staples out of my paper before recycling?

No, it's not necessary to remove staples from your paper before recycling. Part of the paper recycling process involves a step that separates and removes staples and paperclips from the paper before it is turned into a pulp!

If something has the recycling arrows on it, it's recyclable, right?

No — not always. The recycling logo stamped or printed on plastics can be a little misleading. Those little arrows and numbers represent the resin identification code, a reference to the type of plastic the item was made from, not whether it is recyclable. Instead of looking for the recycling icon on a piece of plastic, keep in mind two important things: 1. Is the plastic rigid/hard or soft? As a good rule of thumb, rigid/hard plastics can typically be recycled in your curbside cart, whereas soft plastic cannot be recycled curbside, but can be put in your orange Hefty® EnergyBag®. 2. Look at the numbers inside the recycling logo. Omaha accepts the following types of rigid/hard plastic in their curbside and drop-off site recycling: #1, #2, #3, and #5.

Is my holiday gift wrapping recyclable?

Paper gift wrap, paper greeting cards, paper bags, and cardboard boxes can all be recycled in your curbside cart or at an Omaha drop-off recycling site! Foil, wax, glitter, or plastic gift wrap/gift bags, as well as tissue paper, ribbons, bows, and tape should stay out of the cart as these materials cannot be recycled. Instead, consider reusing these wrappings for next year's gift-giving!

If you participate in the Hefty® EnergyBag® program, plastic wrapping, plastic ribbons, and plastic bows can go in your orange Hefty® EnergyBag®. When in Doubt, Throw it Out! If you are unsure about a gift wrap you are trying to recycle, it's best to throw it out to avoid contamination.

Compostable means recyclable, right?

Wrong! Compostable products are made to break down into carbon dioxide, water, and inorganic compounds, whereas recyclable products are made to be reprocessed into new materials for use in new products! Compostable products cannot be recycled, so keep them out of your cart!

Do I have to wash my recyclables before putting them in my cart?

Rinsed and dry is the way to go! Skip the dishwasher and elbow grease, just give your plastic and metal recyclables a quick rinse and dry before throwing them in your cart!

Can pizza boxes be recycled in Omaha?

You betcha they can! Pizza boxes can be recycled as long as there is no cheese, crust, or pineapple left in the box! Got a soggy bottom? A little grease won't hurt but if the bottom of your box is soaked, tear that part off and throw it in your compost or trash!
---
Keep Me Up To Date
Omaha Recycles Right is a campaign created by Keep Omaha Beautiful to help answer your questions relating to recycling in Omaha.
Follow along on Facebook and Instagram for more Omaha Recycles Right tips and tricks!